It's reaching the time of year when I start looking at creating my next year's planners, diaries, calendars, organisers or whatever you choose to call them. These still sell really well on Amazon and I've developed a time-saving method of creating them in Affinity Publisher, the superb alternative to Adobe InDesign.
Don't get me wrong, I love InDesign, but it is expensive and not everyone can afford the monthly subscription fees. So it is well worth the time to learn to use the feature-rich alternative of Affinity Publisher. And this year I am creating all my journals, planners and similar products using this program.
I've been using it extensively since January this year now and have come to love the simplicity of it (although it is far from a 'simple' program, it is very easy to use). And if you have the entire suite of Publisher, Designer and Photo, you can flick back and forth between them from within one program. Move images and vectors easily through the programs without having to load up each of them separately.
According to Rob Cubbon (a very successful Amazon seller), the three golden rules of selling Print on Demand products are:
1. Find a niche or audience of buyers who aren't being served completely
2. Create a useful and attractive product for them
3. Rule one is the most important rule
Yes only two really, but you take his point!
Here are some of the benefits of using Affinity Publisher:
You can have multiple Master pages that you can apply to different templates and pages in your document.
You can set formatting styles within the character typeset and paragraph styles and apply them throughout your documents with one click.
You can use text autoflow to speed up your page creation and replacement each year.
You set up once and rinse and repeat each year, once you have a layout you like and you know is popular.
And with regards to the product itself:
It's a one off fee (approx £49 at the time of writing for each program), no subscriptions.
Lifetime updates for free.
and no this is not an affiliate link – surprisingly Affinity doesn't have an affiliate program!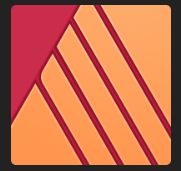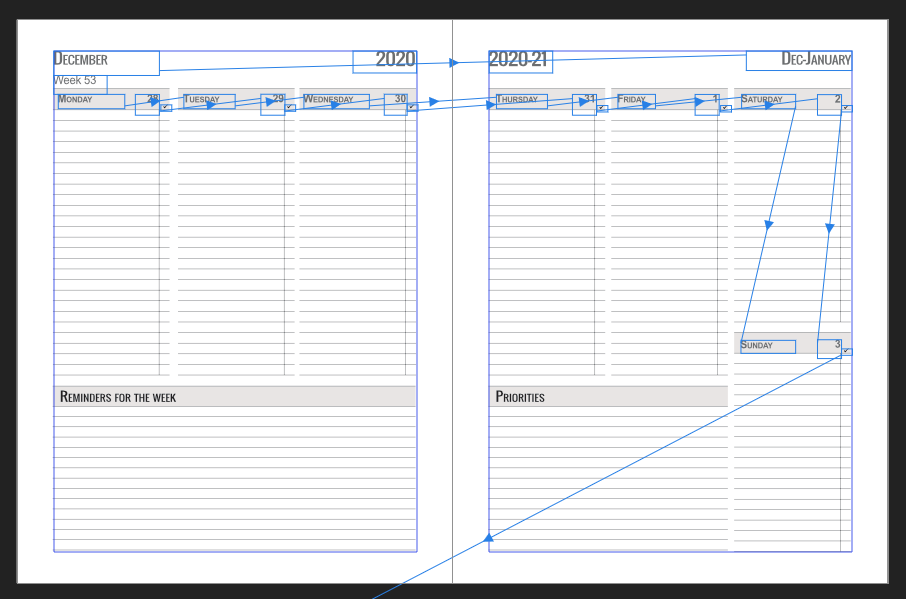 So, when you are creating a planner in Publisher you should always start designing on the Master Page so you can easily apply that page template to multiple pages in your document.
Here you can see the date numbers are in linked text boxes so you can change the month or year without having to edit every date box. This negates the need for time-consuming editing, as all you have to do is make one small edit at the beginning of your text flow.
I show you how to use text autoflow in this video.
I love this concept of creating once and then simply updating for timeless use, and of course, it is one that can be applied to more than just the interiors for journals.
For example, if you find a cover style that seems popular why not repeat it across different images to appeal to different niches? The pet world lends itself to this, as people love their pets and if you have a range of photos you will appeal to a broad range with the same product.
Whilst you can set up 'slide' masters in PowerPoint and do a similar thing, you cannot set up text autoflow and that is what saves you the time when editing all the days of the month etc. in years to come.
But if all that seems like a hassle or just beyond your editing skills at the moment, I have already set up a basic planner layout for the School Year and am about to finish one for the calendar year as well.
These are PLR products and you will have full commercial use to edit and publish them as your own. You just will not be able to sell the templates. I also supply six different covers, spines and the original editable Photoshop file (for the covers). And they are all available in colour, black and white and in three different sizes:
6 x 9″
8 x 10″
8.25 x 11″
You will find them here: School Year Planner – 2020-2021
Why didn't I use Affinity Photo I hear you ask? Well mainly because I  had a template in Photoshop which I had already edited. And partly because, at this moment in time, I know how to use Photoshop slightly better, which means it was quicker to do. But that will change I am sure :-).
You can open the file in Affinity Photo, but I found it was easier to edit in Designer. So I think going forward I will maybe set up templates that way, and give people the choice. These products will also be available on Gumroad.
What do you think?
Would you prefer both for the covers, or the Affinity range? Drop me a comment below.